NEW POP UP GAZEBO V5 – PERFECT UNION BETWEEN STURDINESS, LIGTHNESS AND AESTHETICS.
VITABRI has launched its brand new pop up frame V5 to meet client's demanding expectations.
Combining V2 and V3 best technical specifications, the V5 canopy is the result of robustnes, lightness and design.
The V5 is available is 3m x 3m ; 3m x 4.5m and 4m x 4m. It is set up in 30 seconds without efforts and any tools.
---
COVERING
To cover a canopy is question of taste. VITABRI provides many options. Any covering of the V2 + V3 product range provides the client a marketing platform. VITABRi stitching and sewing service offer many opportunities to our clients to market their products.
PRINTING
Our printing workshop is an important service at VITABRI. A printed canopy allows to create an attractive and genuine communication. It will ensure an awareness anytime and anywhere. We have chosen quality innovative printers that are at the cutting edge and environmental friendly. This decision and know-how allows us to be reactive, flexibel and competitive.
AVAILABLE COLOURS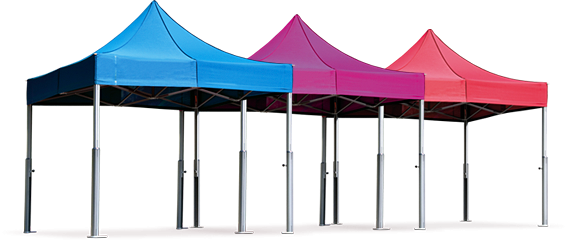 White, blue or black PVC ; red and yellow Acrylic and grey, green Polyester…there are many choices in terms of colours. Originality and simplicity is our objective.. You have a choice !! Remember a VITABRI canopy is a quality product.